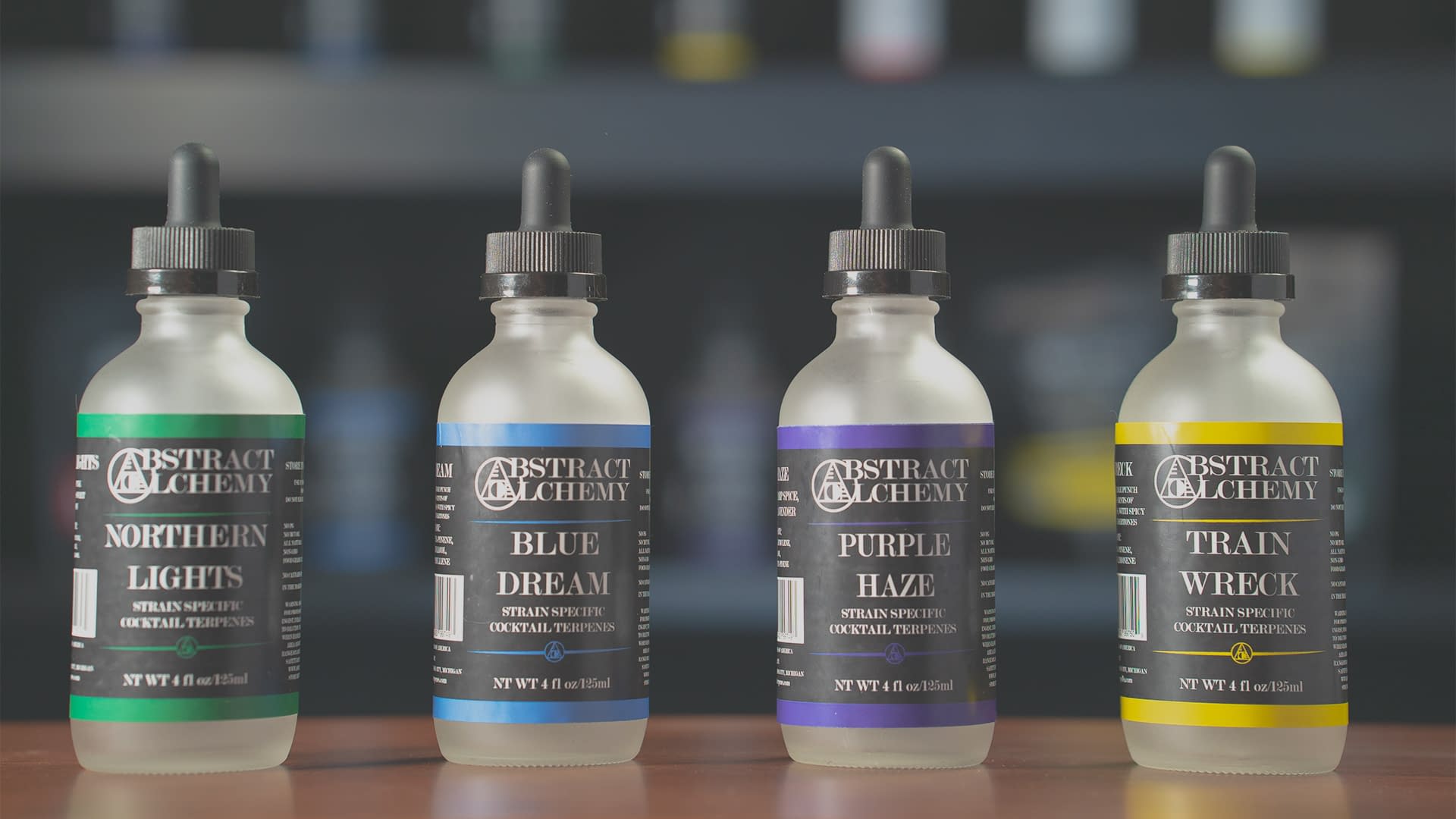 Blue Dream MARTINI
Sip into a dream as the relaxing and cerebral stimulating effects of our Blue Dream Martini tops off your day.
The Martini has been called "American Perfection". We are thinking more about "Global Relaxation."
Ingredients
2oz Gin
1oz Dry Vermouth
.5ml Blue Dream Cocktail Terpenes
Lemon Peel
Grapefruit
Stoney Mule
The versatility of "Mule" drinks lends well with Abstract Alchemy's Northern Lights Cocktail Terpenes. Giving you that warm, comfort in the colder months and cool refreshing in summertime, our Stoney Mule recipe will keep the smiles coming all year round.
Ingredients
2oz Ginger Beer
1.5oz Tequila of Choice
.5oz Lemon
.5oz Blueberry
.5ml Northern Lights Cocktail Terpenes
RYE WRECK
The euphoria of our Train Wreck terpenes matched with that smokey, charcoal finish of the famous George Dickel Rye will keep you pleasantly rolling down the tracks. This drink is an Abstract Alchemy favorite!
Ingredients
1.5 Dickel Rye
1oz Carpano Antica
1oz Campari
.5ml Train Wreck Cocktail Terpenes
Purple HAZE-QIURI
You can't get much simpler than a daiquiri recipe, yet it remains one of the most popular cocktails on the planet.
Smooth, simple, and now Uplifting!
3 words to describe our classic daiquiri recipe with our Strain Specific Purple Haze terpenes. Your old daiquiri recipe just got terped. Enjoy!
Ingredients
2oz Light Rum
.75oz Lime
.75oz Simple Syrup
.25ml Blue Dream Cocktail Terpenes
Lime Twist
Our creative terpene cocktail recipes are designed to enhance your beverage experience.  There are many benefits that result from mixing terpenes into your beverages.  Each bottle has a unique terpene blend that is specifically created with this in mind.  Some of our blends are more calming in nature while others provide a creative and euphoric experience.  We hope you enjoy some of our personal favorite terpene cocktail recipes!